Some tips for today's Real Estate sellers
Published on 27/03/2023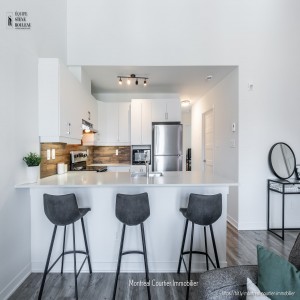 Some tips for today's Real Estate sellers
Before selling:
You will probably feel anxious when you first put your property on the market for
sale
because you have no idea what to expect. Since the real estate market is constantly changing, even the most experienced agents are sometimes plagued by uncertainty. To make the process less scary, follow these tips and be sure to ask questions if you feel the need.
- Prepare your home. Make it easy for the new occupants to move in by making the necessary repairs. If you can afford it, hire a home
inspector
to tell you what to fix.
- Focus on what matters. Put aside your feelings about your home by taking a step back and facing the facts: it's just a
house
.
- Schedule visiting hours during the day. By making your property more accessible to potential buyers and their agents, you will sell it faster.
Before you buy another property:
- Save time and money by planning ahead.
If you intend to sell your home
first and buy another one later, I will help you find a short-term rental or a new home that will suit your needs.
If you are increasing the size of your home:
Families looking to purchase a larger
home
tend to think only about the extra space they will need, but there are other factors to consider during the selling process as well.
- Should you
sell first
, or
buy first
? You're probably wondering whether it's better to sell your property first and buy a new one later, or vice versa. We can explore your options together so that you can make the best decision.
- Set a fair price. The goal is to attract several buyers and choose the most attractive and profitable offer. Setting a reasonable price to sell your property will allow you to target serious buyers who are ready to move forward. This will allow you to close the sale more quickly and move on. In short, you will be a winner on all fronts.
Before you buy a larger property:
- Try to find your new home if yours is already for sale.
- Make a list of what you are actively looking for and what you want to avoid at all costs to maximize the effectiveness of your search.
- Consider the suburbs. If you're looking for space at an affordable price, consider moving to the country or suburbs. You may be able to get a good deal.
If you are downsizing:
While most sellers who buy a smaller home are at retirement age, there are many reasons for such a choice, from saving money through lower mortgage payments to getting out of the work required to maintain a large property. Whatever your motivation, you should sell at a profit. That way, you can pay for your next home in cash and save the rest.
- Clean up your house. Since you are downsizing your home, you need to go through your belongings and sell, donate or throw away anything you don't need. Keep in mind that you may not have enough storage space in your next home to store what you no longer need.
- Update the interior of your home. You may not need to undertake expensive renovations if your property is new. If it is, you can simply replace appliances, make minor repairs or apply a coat of paint to revitalize your interior.
- Hire a professional decorator. If you're in a high-end market with a lot of competition, a decorator can help you enhance your property to make it stand out from similar homes.
Before buying a smaller property:
- Consider buying an imperfect residence. If you sell your home for a good price, you may have enough money to hire a professional contractor to improve the appearance and functionality of a home that is being sold for a modest price.
- Save some cash. Rather than using all the proceeds from the sale of your property to pay for the new one at once, allocate most of the money to the down payment and take out a low-rate mortgage to finance the remaining balance. That way, you can move into your new home with financial flexibility.
- Try before you buy, especially if you are moving to another city or downsizing your property significantly. Renting a smaller space in the area of your choice will help you determine the ideal size of your future home. You will then have found where you want to settle before you invest a large sum of money.
Some tips to help you resell later
If you're planning to move in a few years, there are some things you can do to make selling your home easier when the time comes.
- Make improvements. Most buyers pay particular attention to properties that have unique features, such as a large kitchen or a renovated bathroom. So focus on upgrading key rooms to prepare your home for sale.
- Find ways to save energy. Today's buyers are interested in energy-efficient options that allow them to spend less. Consider installing energy-efficient windows, replacing an old furnace or water heater, or improving insulation in the attic or basement, if you have one.
- Maintain your home daily. You can sell your home for more money if you keep it in good condition. Regular maintenance of your home also helps prevent costly repairs.