5 home staging tips to sell your house quickly
Published on 17/04/2017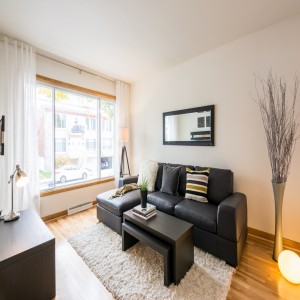 5 « home staging » tips to sell your house quickly.
You are in the process of
selling your house
and having trouble finding a buyer? Here are 5 home stating tips to attract buyers.


Declutter:
A home overloaded with miscellaneous possessions and decorative items is never pleasing to the eye. Moreover, this abundance creates a feeling of oppression that is quickly felt, causing an uneasiness that makes you want not to stay in the house. Furthermore, too many objects tend to hide the architectural assets of the rooms, which is definitely not advantageous. Remember that an overcrowded room often looks smaller than it really is, which detracts from the visitor's appreciation of the home's size.


Clean up:
While most of our homes are cleaned on a frequent basis, some areas are not cleaned daily. For example, windows or walls may have accumulated dirt or be marked by fingerprints. Dust accumulated on fans or light fixtures would also look bad, so don't hesitate to inspect every corner vigilantly.
Remember, cleanliness goes hand in hand with a pleasant smell. Avoid, at all costs, the small of fried food, cigarettes or the smell of pets.


Depersonalize:
It goes without saying that our home and the way it's laid out reflects our personality. However, since the house will be sold to another owner, he or she must be able to imagine living there. To do this, they must be able to mentally transpose their own possessions into your home. In order to allow him to do this, depersonalize the house and leave out the more personal objects. Put away the children's toys, the dog's bowl, vacation mementos or family photos so that a buyer can let his imagination run wild.


Fix it:
In order to keep the home looking maintained, it is important to make the necessary repairs. Not only will a neglected property be visually unappealing, but it will also lead potential buyers to imagine the long list of work that will need to be done when they move in. Having to come up with a list of repairs to be done before a purchase will only serve to discourage them, which is clearly not a desirable effect under the circumstances.


For a perfect home staging, maintain consistency in your decor:
In order for your property to be a credit to you, it needs to have an ambiance and a personality. It is difficult to achieve this when the rooms do not have a specific purpose. For example, a bedroom paired with a workout area will not show the room's potential as a master bedroom.
If a room is to be used for multiple activities, the sessions related to each activity should be clearly delineated, but still linked by a common thread. Therefore, do not hesitate to limit the number of textures, colours and patterns used in a room to avoid creating an eclectic, hence, inconsistent decor. This rule also applies to the entire house and should allow potential buyers to see a common thread between the different rooms during their visit.
Contact a
Remax real estate broker
to find out all the tips you need to know to enhance the value of your home.